When she says her Chinese name, I have to cry. Pain, sadness and happiness mix in the tears that roll down my cheeks. I look around and see that all representatives of her large family are in tears. Later I heard that also the participants of the masterclass that were not in the constellation found it hard to not cry. I represent the father of a Chinese woman who was born in Vietnam and now lives in Switzerland.
She wants to know where her home is. Her (half) brothers and sisters live scattered all over the world and have adopted Western names, just like she has. That makes it easier for the people around them. When the facilitator asks her to call all her family members by their Chinese name, it is very emotional and it gives peace and power. When she takes her place in the row of 13 (half) brothers and sisters, she is home.
Connecting To The Roots Of The Constellation Work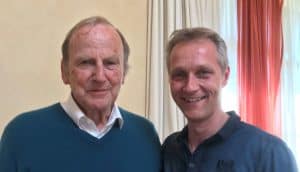 For me the whole two-day masterclass in which this constellation takes place is coming home to my roots. In this case the roots of the constellation work I do. The masterclass is given by the 78-year old Gunthard Weber, the pioneer that together with Bert Hellinger made family and organizational constellations known to the world.
He was also Bert Hellinger's first client for an organizational or business constellation and is the one who has made constellations popular in the business world. This is the man who is part of the roots of this amazing craft that has been spread all over the world in many different forms.
During these two days I absorb everything Gunthard does and tells. When he explains why he did what he did and did not do what he did not do. When he tells his anecdotes. When he directs the constellation according to his hypothesis in his direct and humoristic way. When he has the client say sentences that create peace.
Sometimes I don't agree with him and I can really feel that I belong to another branche of the constellation field and still I feel a deep connection with him. When normally I would get irritated, I am now able to open up for the knowledge and experience of the founder of this professional area. This way I can ground and come home as a constellator. I can also sense more clearly what makes me unique as a facilitator of constellations.
It is even more special, since this is the last time Gunthard will be giving a seminar outside Germany and at the end of the year he will also stop giving seminars in Germany, his home country. Gunhard Weber is 78 and wants to spend his time on other projects he is active in. When at the end of the two days Jan Jacob Stam asks him to give his advise to the next generation of constellators I feel the blessing and trust Gunthard has in the people that come after him.
Finding The Power Of Your Roots
As an entrepreneur or leader it also very helpful to connect with your roots. You can do this in the following way.
Sit down, relax and take some time to empty your head and be fully present. Connect with the following roots:
Your Family
The family that you were born into is the source of who you are. By connecting with this family and at the same time feeling your uniqueness, you can grow, based on solid grounds.
Imagine your father behind your right shoulder and your mother behind your left. Behind them are their parents (mother left, father right) and behind them theirs and so on. Connect with all these ancestors and be aware of how this is for you.
Feel the gratitude for the life they have given you.
You Home Country
The country where you were born is also be a powerful base on which your company can florish.
Imagine opposite of you a symbol of the country in which you were born. You can also imagine a person representing this country or maybe even an image of the whole country. Choose what is right for you.
Then connect with the representative of your home country. Sense how this is for you. Connect to the gratitude that this country has carried you when you were born.
Your Profession
In order to be a true master in your profession you need to connect to the roots of this professional field. Like me, you can connect with the founder of the field. You can also travel to the country where this profession was first practised. Maybe your profession has its roots in different sources.
Investigate the sources of your profession. Which individuals are connected with these roots? Which countries and places? Which people? Which larger forces and philosophies? Write each of these names on a separate piece of paper and place these on the floor. Place yourself related to these papers representing the sources of your profession and sense how this is for you. Maybe you want to move some papers or yourself. Feel free to do so.
Your Company
The roots of your company are connected with the reason you have founded your company. What is the deeper purpose why your company came into existence? The French call this raison d'être, reason of being. It is the often subconscious spark that lightened your company.
Sit down again and focus your attention inwards. Connect with your company and ask for a symbol representing the deeper purpose of your company. Stay with the first image, sensation, feeling, sound or idea that you get. Observe. Take your time to really connect with it. Then place the symbol somewhere in your body.
Take your time to sense everything that you have observed and what has been set in motion. Breath in and breath out while you connect again with all your roots and those of your company.
I am curious what you have experienced and what it brought you. Please leave it in a comment below. Thanks.
Do you already have some experience and training in facilitating constellations? Then you might want to join the online Advanced Modules Facilitating Business Constellations in which we will focus on one aspect of this wonderful craft. This way you will become a better facilitator and learn from my style of facilitating. At the same time you will be connected with facilitators from all over the world.